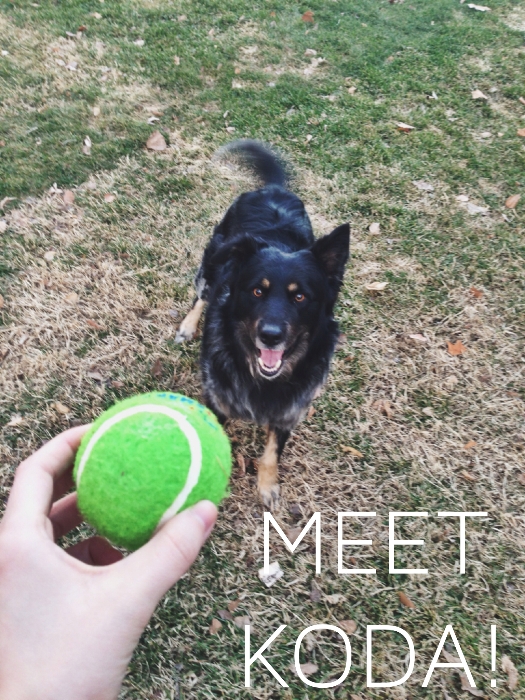 yesyesyes! it's true! this is our new little family member and we love him so much already! koda is an australian shepherd/border collie mix. he's four years old so he's already pretty well trained and totally house broken! he loves to smile and to follow us everywhere we go. he also loves playing outside, which has been great for us!
ever since before we got married, i would ask riley for a puppy almost every day! it only got worse when we got married but we decided we should wait till at least after i graduate in april. but then we started going to the humane society and found a dog we loved but we were going to vegas soon and it's expensive to have a dog and so we decided against it again. then we rented puppies and then we went to play with dogs at the humane society and petsmart again (just to play) and well, we fell in love with another one and caved. but we were still going to vegas so we had to wait a whole week and hope that no one else adopted him! so as soon as we got back into town on sunday, we picked him up! and now he's ours! and he's the best and we love him!
we might be totally out of our minds but we've loved having him around. a big reason why i wanted to get a dog is so i'd be more motivated to get up earlier and to get outside and exercise! so far, it's worked! this morning i got out of bed at 8:30 and went out to take him for a walk. mostly because riley was leaving and i was scared koda was going to start chewing things if he was left unattended ;) i also have this irrational fear that he's going to pull a tilikum (you know, the killer whale from black fish who was not happy and went  a little crazy) and just destroy everything. ha! but he's such a good dog! so we know he won't do that :)
i apologize ahead of time because i'm pretty sure a lot of posts here on out will consist of koda because he is so stinkin' cute!