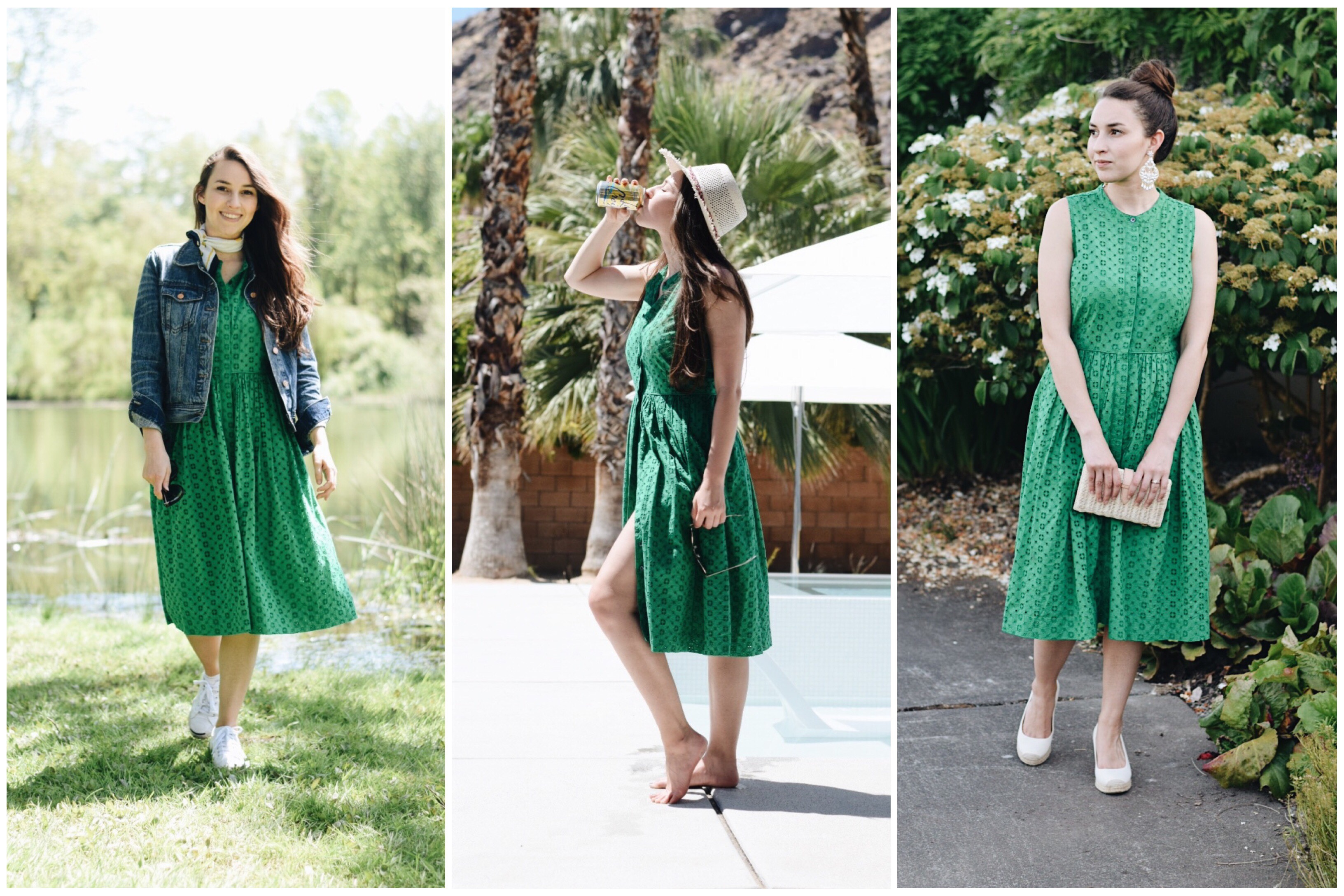 happy first day of june! i can't believe it but i'm stoked that summer is practically here! when i saw this dress from j.crew, i knew i had to get it! the color, the length, and the versatility make it the perfect dress! it also comes in white and navy which made it hard to decide, but i couldn't resist the green! anyway, i thought it would be fun to style it three different ways to show how versatile it is! it's the kind of dress that can be dressed up, dressed down, and worn as a swim cover up which are all things that i often need in my life :)
Dress it down:
throw on a denim jacket (blue or white!), some tennies, and a cute bandana around your neck and you're set for a day at the park, farmers market, or an afternoon bike ride! it's even scooter approved :) because of the length, it's perfect to play with your dog or little ones without any worries. also, it's cotton, so super easy to clean!
i love that there are buttons all the way down, so you can unbutton them all or do what i did and just button a few in the middle. especially if you don't feel bikini ready quite yet :) the green dress was so fun to pair with bright pink lipstick and my colorful sunhat. this was one of my favorite outfits ever and it was perfect and easy for palm springs which is all about color! p.s. the swimsuit i wore underneath was the one i wore here.
probably my favorite accessory ever is statement earrings! so to dress up a little for an evening picnic with riley, i threw my hair up into a bun and put on these fun enamel jcrew earrings. i paired them with my neutral espadrille wedges and a rattan clutch — making the perfect combo for a summer date night! i just wished i had brought a pashmina or light cardigan because it got a little chilly once the sun went down :)
which is your favorite way that i styled this dress? i had a lot of fun doing it and hope you didn't mind the millions of photos of me ;)